Specification
| | |
| --- | --- |
| Manufacturer: Ace | Berth: 2 Berth |
| Year: 2013 | Type: Caravans |
| Condition: Used | Layout: Rear washroom |
| Dimensions: 6.05mx2.25mx2.59m (LxWxH) | Colour: White |
| MTPLM: 1208kg | Warranty: Yes |
| MIRO: 1042kg | Axles: 1 |
| Payload: 201kg | Configuration: Rear washroom |
Layout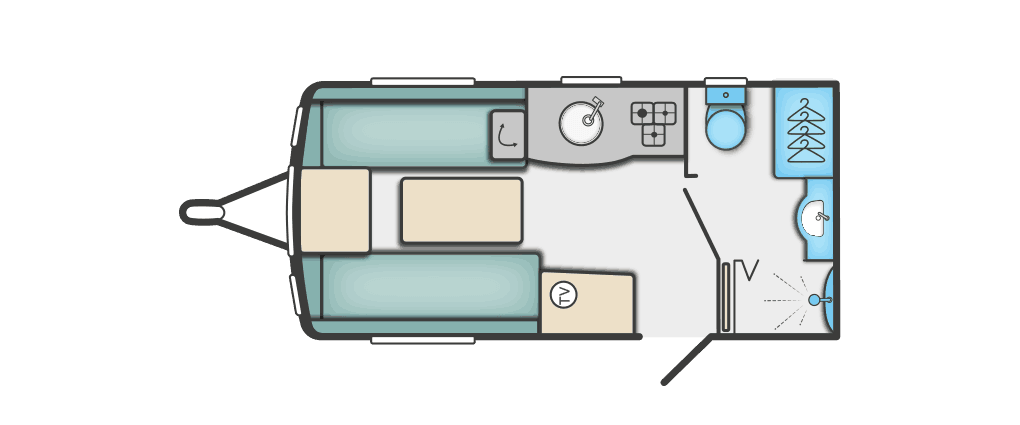 Click here to englarge layout view
Description
Ace Ambassador Alpine 2 2013
fitted with a Motormover
Details
The new 2013 Sprite range has landed! This two berth Alpine features two large bench seats, a spacious end washroom, and full kitchen facilities. Sprite caravans have long been renowned for low weights but high quality and the 2013 range is no different. Our Alpine 2 comes fitted with the massively popular front sun roof, and Diamond Pack which gives you even more specification. The Sprite 'vans are perfect for those with limited towing capabilities but still enjoy having the luxuries of home. For further information please contact us on 01614866044  and ask for a member of the sales team.
Exterior
It used to be that continental caravans were the sunnylooking ones. The Brits have caught up in recent years and the 2012 Sprites follow this trend, with big, bold, sky-blue sweeps and lines that run along almost the whole length.
The front shape is new, too – much more steeply raked and rounded. And you'll notice Sprites follow another trend – they now have step-on hitch covers, so that you can gain enough height to clean that lovely front window. The singlepiece glazing lets in more light than a triple-window would.
Interior
The bold theme continues inside, with big, floral patterns on seat backs and cushions. Floral? Yes, but these flowers are big and modern; very unlike the floral fabrics found in caravans a few years ago. Above all, the fabric contrast of dark brown and cream gives Sprites a real identity – we think this is far more memorable than the subtle beiges of the last few model-years.
Looks are great but a far more important feature of a small caravan is storage. In this two-berth, end washroom caravan, only 4.3 metres long, there's an amazing amount of space for stuff. Top side lockers reach deep into the front body lines, giving almost twice the capacity you're expecting before you open the doors of these compartments.
Drop-down doors run the full length of the settees, so getting items in and out is easy. Kitchen storage, as you'd expect in a caravan this short, is confined to a single cupboard but there's a second one, with two large shelves, in the dresser opposite. A trio of overhead kitchen cabinets gives brilliant storage for lightweight items – and there is another overhead locker above the dresser.
In the washroom, the storage story continues, with a double-doored wardrobe which gives you full hanging depth, plus a shelf and a 65cm-deep space underneath it. A second shelf here would have created more space for shoes and would have added only a few grams to the brilliantly low 1160kg MTPLM of the Alpine 2.
There's a big cupboard under the 38cm-wide washbasin. And the door to the washroom opens through 180 degrees, to sit against the wall beside the entrance door, where there are two coat hooks and a useful shelf for smaller items. Another shelf sits above the Truma heater unit within the dresser, but this area looks as if a drawer should have been fitted there.
Anything missing? There's no carpet in the washroom, the hob has only three burners, and there is no microwave oven (it's a £122 option which we'd take). Swift's Diamond Pack is listed as an option; every Sprite arrives at its dealer complete with this £399 seven-item pack, and it's important because it includes a spare wheel, an AL-KO Secure wheel lock receiver and an AKS hitchhead stabiliser.