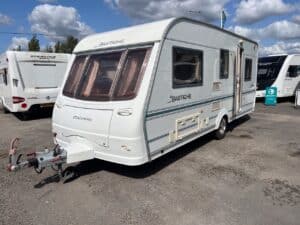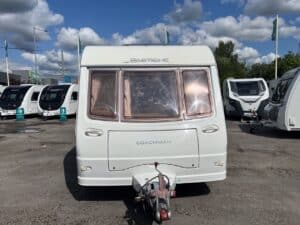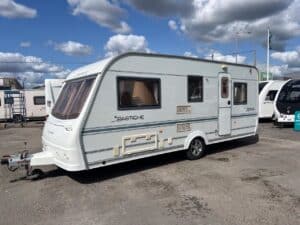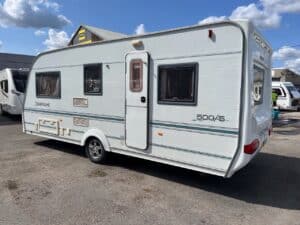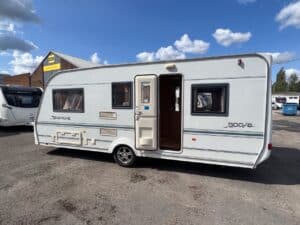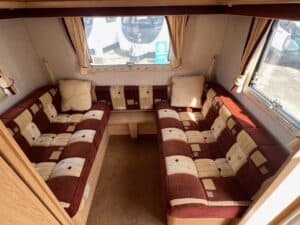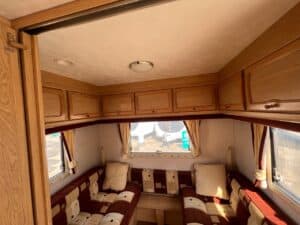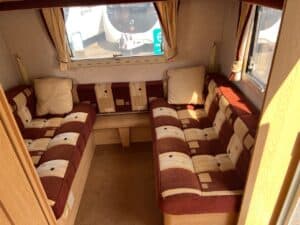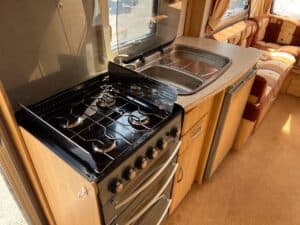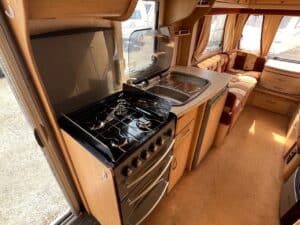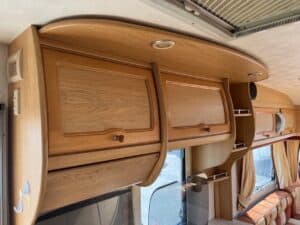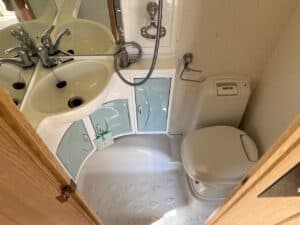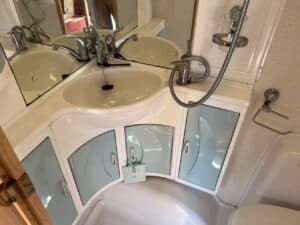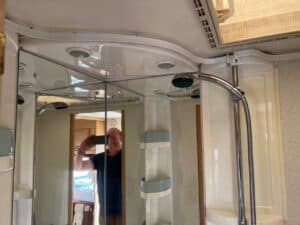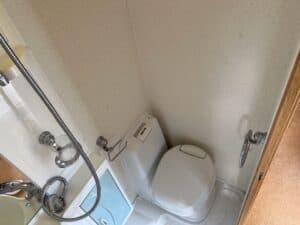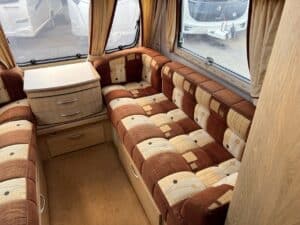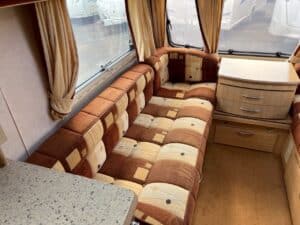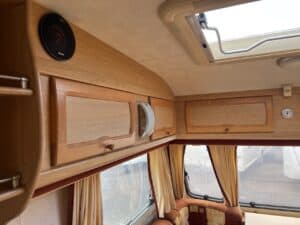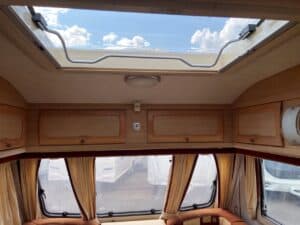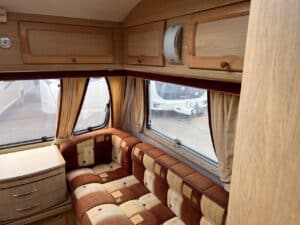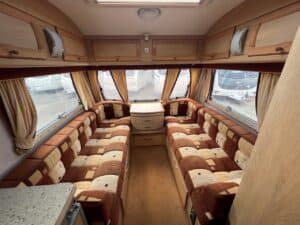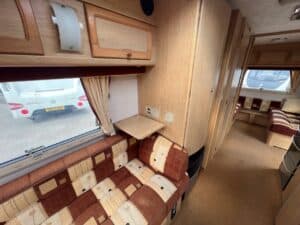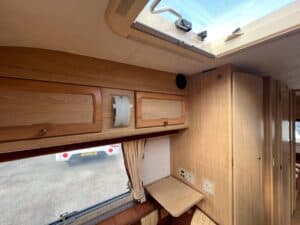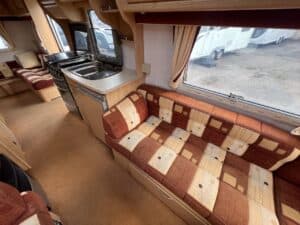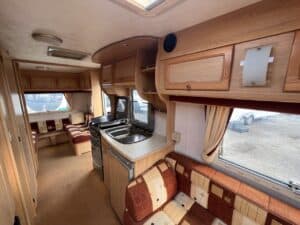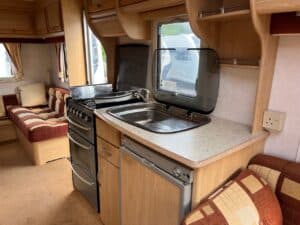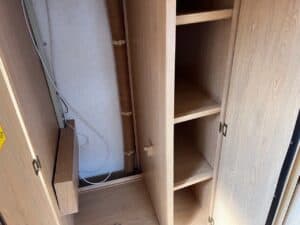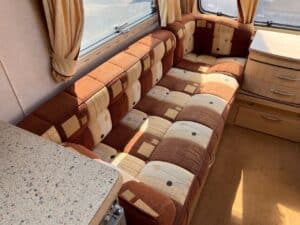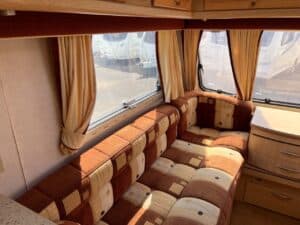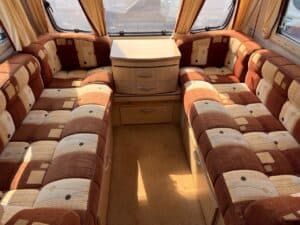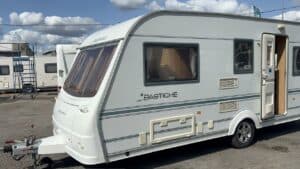 Specification
| | |
| --- | --- |
| Year: 2004 | Layout: Twin Lounge |
| Dimensions: 7.06x2.18x2.59m (LxWxH) | Colour: white |
| MTPLM: 1525kg | Warranty: YES |
| MIRO: 1310kg | Payload: 215kg |
Layout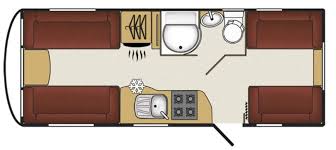 Click here to englarge layout view
Description
Coachman Pastiche 500-5
What we have here is a Coachman Pastiche 500-5 Five berth twin lounge  caravan.
Loads of extras fitted.
Full review
IN bald visual terms, the Amara caravan has enjoyed the odd nip and tuck here and there during the last couple of seasons, but 2007 has turned out to be Amara's year for real visual change.
Most importantly, its overall body width has crept up to 7ft 4in, all the better to accommodate the 550's new side washroom but the new ABS front panel gets flusher-fitting windows à la Pastiche, too, while the rear end is finally rid of the old-style Caraluna light clusters; the jewel-effect Mark IIs everyone else has been fitting for a while, now, have replaced them, and the smarter, more up-to-date ABS full-height panel is an equally welcome sight.
The old stable door has gone the way of all flesh, too, to be replaced by a smart new one-piece Ellbee example, complete with opening window and ultra-deep storage pocket.
There's little to report on the facilities front, but then, Amara was always very well-endowed in this respect anyway, sporting a one-tug handbrake, inboard jockey wheel and AKS hitch stabiliser.
As you'd expect, the 2007 derivative is no different, although those ultra-smart alloy wheels remain firmly attached to the options list. Still, a spot of haggling come sales time might get them thrown into the deal if you're determined enough.
The Amara's lounge
Inside, there seems, on the face of it, little new to report over the outgoing 500 (which the 550 replaces): up front, there's a smart (and rather more spacious, thanks to the wider body) parallel lounge, with a smaller, but still generously proportioned example slung out back.
Sleeping arrangements, too, remain the same, with the front double matched out back, together with a fold-up cantilever-style bunk.
Orange continues to be the new black up at Sutton Fields as far as upholstery is concerned, and the cabinetry remains pretty much as ever it was: unitary in design, handsome to behold and rock solid to the touch. So far, then, so little different.
The big news lies, in fact, along the offside wall. Where owners of the outgoing 500 had to make do with an all-in-one washroom, the 550's extra inches mean there's a proper separate shower ensconced therein.
There's a decent amount of stowage potential in there, too, and it's well-lit with a pair of dedicated downlighters aided and abetted by the (frosted) side window keeping it all bright and airy.
Those broad of beam and big of foot might find the available room around the manual flush swivel loo a little tight, but most average-sized caravanners should be just fine. The washbasin's a decent size, too.
Back in the main body of the caravan, the nearside kitchen lives directly opposite the washroom, and while there's little to report in terms of modifications (these are limited to the provision of the latest 97-litre Thetford fridge-freezer that sports snazzy LCD controls), there was never anything wrong with it anyway – locker and worktop space are all at least above average and the sunken sink and drainer should help to contain even the most violent of washing up-related tidal waves.
And that pretty much sums this latest Amara up, really. It was never going to grab the headlines for its eye-popping styling, envelope-pushing layout or dare-to-be-different kit-list, but Coachman has taken what was already a hard to fault caravan, righted pretty much all of its wrongs, and given it just enough of a shot of Botox to keep the wrinkles at bay, but not so much as to alienate faithful buyers who, we're reliably informed, come back to the brand year after year.
At a whisker over £13,500, you could even go as far as to call it good value for money.
Our verdict:
This Amara is ridiculously difficult to find holes in, and this, the new 550, is arguably the pick of the range, offering the best of all worlds layout (the end dinette can be left made up as a permanent bed, used as a dining room or retained as the children's bedroom and playroom) that's even better by the provision of a separate shower compartment.
•    A full version of this review including specification appeared in the April 2007 issue of Which Caravan. To order a road test reprint contact Tina Beaumont on 01778 391187.
To subscribe to the magazine, click here.