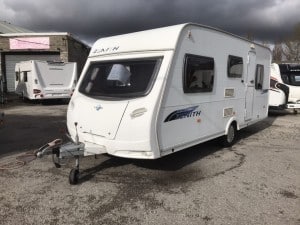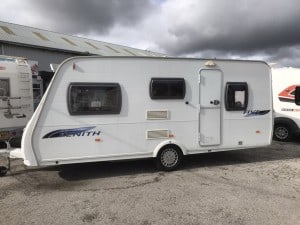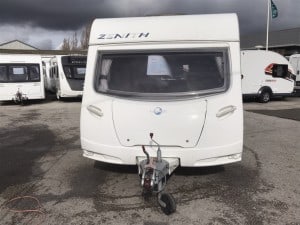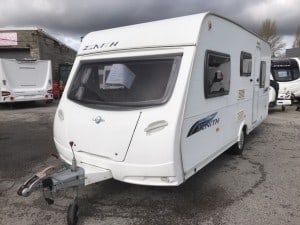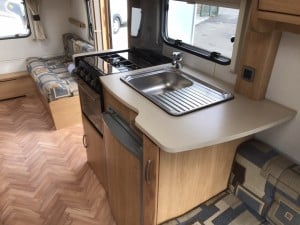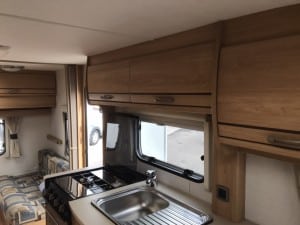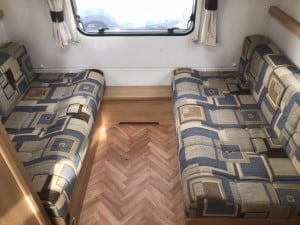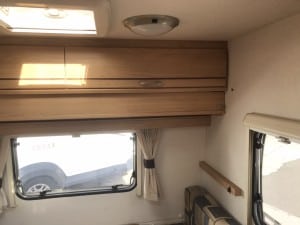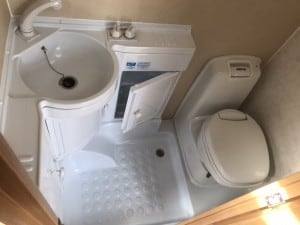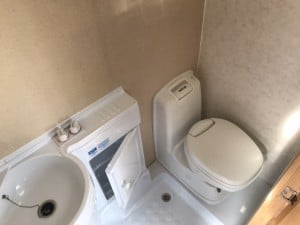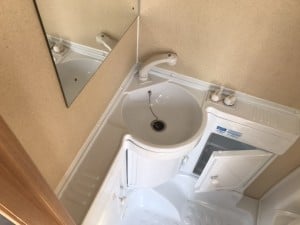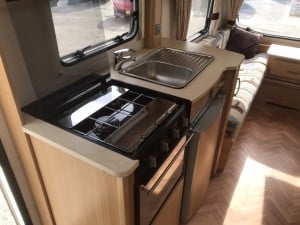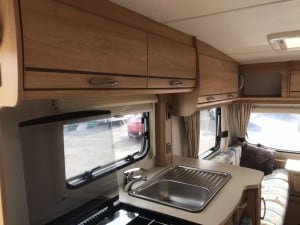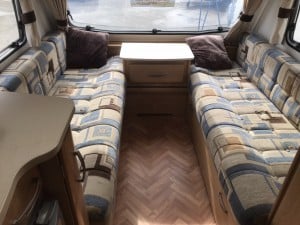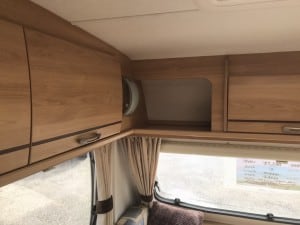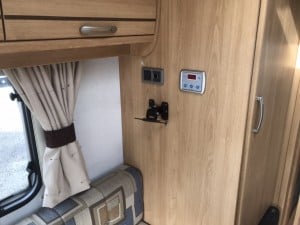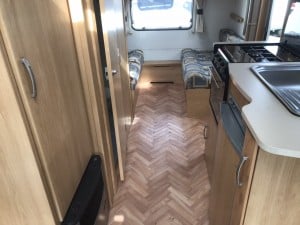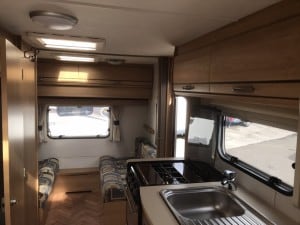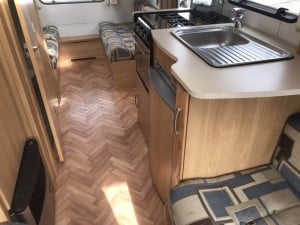 Specification
Year: 2009

Layout: Twin lounge

Dimensions: 6.65x2.16x2.59m (LxWxH)

Colour: white

MTPLM: 1217kg

Warranty: YES

MIRO: 990kg

Payload: 227kg

Configuration: Twin Lounge
Description
Lunar Zenith 5
DETAILED REVIEW
At cool layout  and sleeping five in a classic, proven layout, the Zenith 5 places itself firmly in the family bracket where competition is hot and ?sales are won and lost on attention to detail
So that's where we'll start. Step inside a 2009 Zenith and your first impression is of clean lines, light woodwork and modernity everywhere you look. Look down and your next step across that delightfully herringbone pattern wood-effect flooring will take you to lounge one – that's at the rear. Stop there for a moment and take in the soft furnishings that are this caravan's distinguishing feature. Cool blue teamed with a couple of fawn shades and a little dark brown for emphasis places this in the drawer marked "stylish and a bit IKEA".
Now you're sitting comfortably, look ahead of you and notice quality-fabric cream curtains with a mere hint of chocolate brown in a feature weave. Get cosy, now, with four scatter cushions, brown on one side, the fabric of the curtains on the other.
By now you're also appreciating something else. In a caravan of not much over five metres internal length there seems an extraordinary amount of space. ?It feels a much bigger caravan than it is. That's thanks to the open layout.
Front-end arrangements are two long settees – so either two single beds or a double. The rear configuration of shorter settees gives you a double bed with bunk above, which hinges down from beneath the rear head lockers.
It sleeps five – and dines anything up to eight, because this layout's great plus-point is that it has two tables, both freestanding. One is housed in its own cupboard just forward of the kitchen and the other clips to the outside wall of the washroom, where it meets the rear dining area.
So, in practice, is this the perfect family layout? Many caravan designers and many families have thought so for a long time, for this is a layout that is one of the all-time classics, cropping up in many ranges over generations of caravan design.
There's plenty to praise in the Zenith 5. Like the hinge-down table designed for a small television. The aerial socket and power connections are here, too. But you'll have to budget for an aerial. That apart, at £11,490 you get a lot of very well designed caravan for your money.
It's lunchtime on our test day and I set about exploring the practicalities of the kitchen. I find I'm liking the curved work surface which slightly, unobtrusively, overhangs the settee. I'm also liking the built-in drainer – far better than those plastic clip-on sorts. And the size of the fridge would be ample for normal family needs.
There's a socket in the kitchen and I wish I had an electric kettle just to demonstrate that there is also ample space for it. But I'll have to resort to gas to produce the coffee…
Cooking arrangements are three burners and a combination grill/oven. The advantage of the smaller combined grill/oven is not only weight-saving, you get a capacious cupboard capable of storing cereal packets and tall fizzy drinks bottles, even the kitchen roll and the pans as well. Just as well, though, for this is your only kitchen storage space except the two overhead lockers which are fitted for table-wear and leave little room for other items.
Our only criticism here is that the cutlery drawer is rather small considering five place settings have to go in there, plus spatulas and other cooking equipment.
Next for examination is the washroom. It's stereotypical of this classic layout, with shower and toilet in one compartment. Where it scores is in the three sizeable cupboards that form the sink-and-vanity unit base. There are two large mirrors above this unit and a shelf running the width of the compartment above the loo – but don't forget to remove your shampoo bottles from this shelf before you tow or they will make a rapid descent to the floor!
Another way in which this layout scores high marks is the amount of under-bed storage space it generates. There are four large areas to cram in sleeping bags and shoes, and still room to store the removable carpets. The front lockers have whole-length apertures, which makes access really easy – much easier than holding up the cushions and lifting the wooden panels that form the settee-bases. That's an area, of course, where cost and weight have both been saved over the alternative slated bed base design. And you can't see it until you lift the bed. Like the majority of weight-saving in this Lunar range, you don't notice it, such is the quality of the design.
One hallmark of so called entry-level caravans you will notice – and, I'd venture to suggest, like very much, is the one-piece front window.
Some say it's a visible reminder that this is a budget-end caravan. Others, though – and I'm among them – think panoramic windows are a plus-point that manufacturers would do well to extend upwards into their ranges.
No economies when it comes to gas bottle compartment lid struts – this one comes with gas-filled struts rather than fiddly little metal arms and hooks that we see in some entry-level caravans. And access is good in the central gas bottle area. There's a recess for a spare wheel but none is provided, so you'll have to budget for that as well as a television aerial.
Woodwork quality is high – and pleasing to the eye. Notice the positive-click as you close the head lockers, and the chunky, chic dull-metal handles, with feature stripe of darker wood just above them. Notice, too, the corner shelving ideal for books – but, as with those shampoo bottles above the loo, don't forget to store them elsewhere on tow.
There are a total of seven head-height lockers excluding the two in the kitchen. The ones above the bunk bed are sensibly proportioned for storing clothing items but the ones in the front, on the sides, would have benefitted from a shelf running half way to maximise on storage space… maybe I'm asking too much as for under £12,000, this is a really great family package.
We've saved the best bit of praise to last, for it's one of Zenith's distinguishing features that we view as really important.
It's the carpet, rolled up in a locker during our test but, when I unfurled it to take a good look, I discovered that it is a practical dark brown colour, in a world where too-pale-to-be-practical caravan carpets predominate, this is a refreshing discovery.