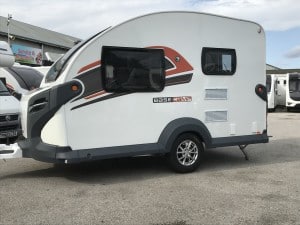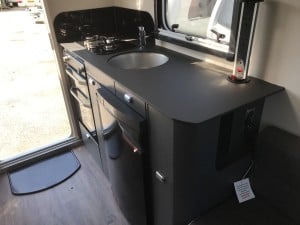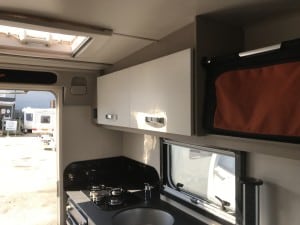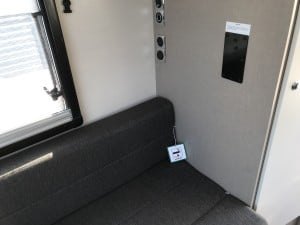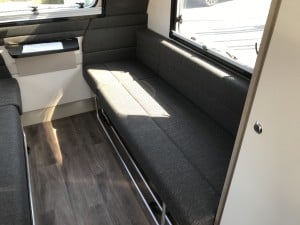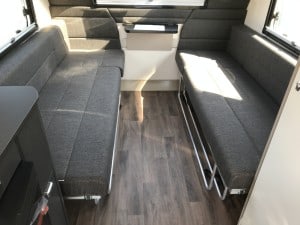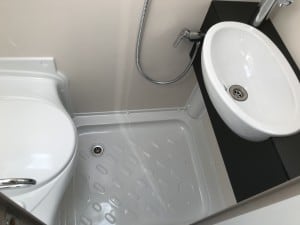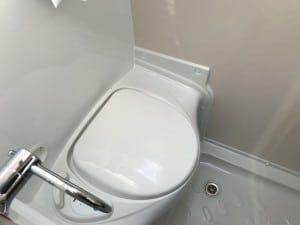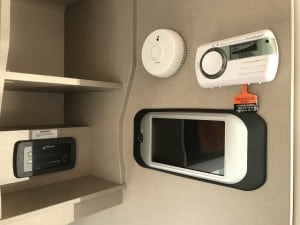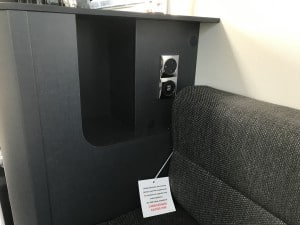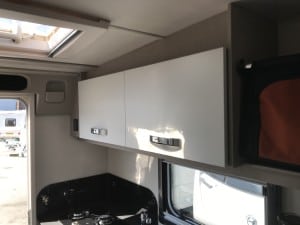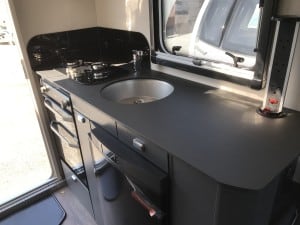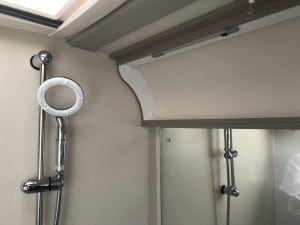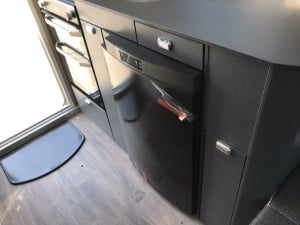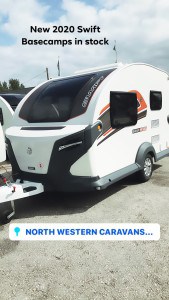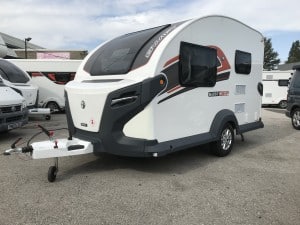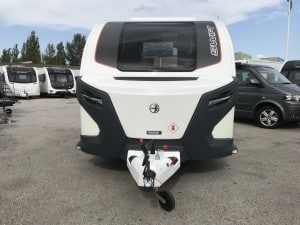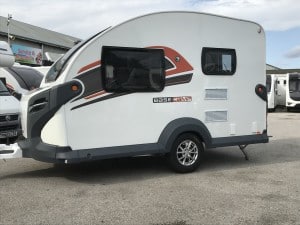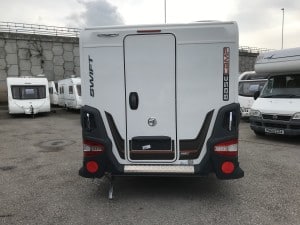 Specification
Year: 2019

Layout: Two berth side kitchen and washroom

Dimensions: 5.10x2.28m2.60m (LxWxH)

Colour: White

MTPLM: 1300kg

Warranty: YES

MIRO: 904kg

Payload: 111kg

Configuration: Two berth rear door
Layout

Click here to englarge layout view
Description
Swift Basecamp plus 2019
Just arrived in stock fitted with a mover and Vango Awning.
STEP INTO THE CROSSOVER CAMPING VEHICLE
A COMPACT CAMPING VEHICLE FOR YOUR BIG ADVENTURE… Swift Basecamp plus 2019
You love the idea of an active outdoor lifestyle,
making the most of your free time and being able
to escape your busy schedule at the drop of a
hat. You want a base that is quick and easy to
set up and pack up, before you move onto your
next destination. You love camping but you want
enhanced living space all year round –
it's time to say hello to Basecamp.
Just like you, Basecamp is fun loving, adventurous
and ready to take you in a new direction.
Whether you are into adrenaline fuelled, fast
paced activities, or just enjoy getting off the
beaten track to explore the wilderness, Basecamp
is the perfect place to rest and refuel, ready for
your next big adventure.
AT HOME IN THE WILDERNESS Swift Basecamp plus 2020
You can stay connected to Basecamp from your mobile
device while out in the wilderness via the clever Swift
Command app which links you to the onboard Swift
Command control system. All you need is an internet
connection. You can locate your Basecamp or even turn
on the awning light and heating for a welcoming return
to camp.
SWIFT COMMAND
Swift Command control system with option to
subscribe to pre-installed Thatcham Category 6
approved pro-active tracker and app control of
selected features
CONNECT DIRECT
Connect Direct is an online system which
personalises each customer's experience
of owning their Basecamp. It links you to
advanced customer care with direct access to
an experienced team, live chat, service history
records, reminders and more. For full details
visit swiftbasecamp.co.uk
BLOWN AIR HEATING
Powerful Whale blown air heating keeps you
warm even when the temperatures
RESTING
As the end of the day draws to a close,
Basecamp is the perfect place to rest in comfort, head refreshed from the day's activities and ready
for tomorrow's adventure.
PLEATED WINDOW BLINDS
Cassette pleated flyscreen and blind to all windows keep bugs at bay and provide shade and privacy
FOLD AWAY TV BRACKET
A handy wall mounted, lockable bracket takes a 15″ TV and comes with a roof mounted aerial (part of Basecamp Plus Pack)
LARGE COMFORTABLE BED
The front seating makes up into a large double bed 6'5″ wide by 6′ long or two single beds
REFUELLING
When you've been out all day working up an appetite,
the Basecamp kitchen is a well-equipped refuelling
station, allowing you to rustle up anything from a boiled
egg to your favourite pasta dish.
THREE BURNER GAS HOB
Thetford 3 burner gas hob and separate
grill allow you to create a range of quick
and easy meals
OVEN
You can upgrade to a full oven with integral grill
as part of the optional Basecamp Plus Pack
DOMETIC FRIDGE FREEZER
Dometic 85 litre, electronic ignition fridge with
removable freezer compartment provides
plentiful storage
RAPID HOT WATER
Whale dual fuel rapid water heater gives a quick
supply of hot water
CLEAN UP AND STOW AWAY
Clever storage solutions and a well-equipped
washroom mean you can keep you and your
Basecamp clean and tidy no matter what the
elements throw at you
.See the full story just here.
WATER SAVING SHOWER HEAD
The clever Ecocamel Orbit shower head
provides a powerful shower while using
less water
ELECTRIC FLUSH TOILET
The Thetford electric flush toilet comes
with an 18 litre wheeled waste tank, ideal
for when you are off the beaten track
REMOVABLE STORAGE BASKETS
Removable 'canvas' zipped bags provide
great storage and can be easily kept fully
loaded at home for a quick getaway
ANCHOR POINTS
Safely anchor your equipment with floor
mounted tie points