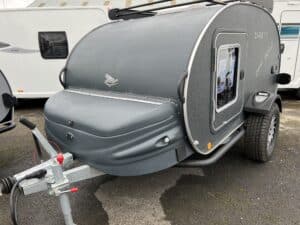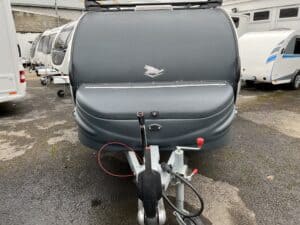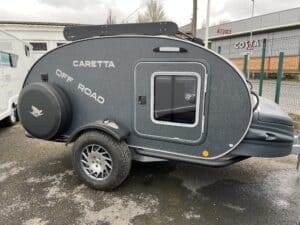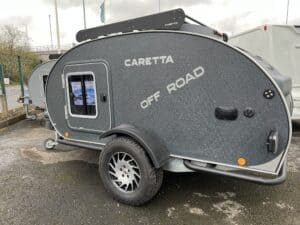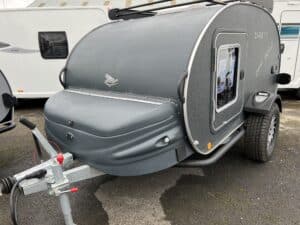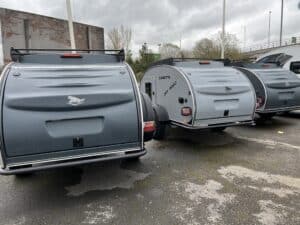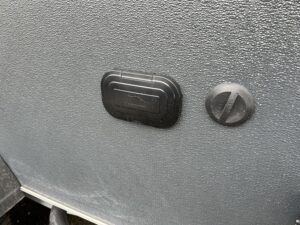 Specification
| | |
| --- | --- |
| Year: 2023 | Layout: TearDrop |
| Dimensions: 4.40x2.10x1.90 (LxWxH) | Colour: Coal Grey |
| MTPLM: 750kg | Warranty: 2 years |
Description
Caretta 1500 Off-Road 2023
Never before has camping and outdoor living been so easy with our superbly designed Turtle range. Live the adventure – simply hitch-up and go. Stable and aerodynamic, they can be towed by virtually any kind of vehicle from a small hatchback or family saloon to a van, sports car and even a trike…
​
And, when you get to your destination, their lightweight, yet robust construction, allows them to be easily handled into position with no complicated reversing or fuss. Drop the third wheel, unhitch, role to the desired spot, level and you're ready to experience all the fun and adventure these marvellous compact trailers provide.
Brilliantly clever, ergonomic design maximises the space for comfortable living accommodation while providing plenty of room for storage. Each Teardrop Trailer is built to exacting specifications by craftsmen, with the attention to detail and finish normally only associated with larger, more expensive units. Our quality has earned us an outstanding reputation, that's why we back all of our sales with a full, two year's warranty.
Take a look at the range and gallery to see the magnetic attraction that Teardrop Trailers have on our customers from all walks of life.
​
Please do not hesitate to contact us if you have any questions.
Added
Extras
Fitted Extras
Off Road Style Wheel Carrier, Spare Tyre and rim, Roof Rack, Dual Hob Burner External Shower.
Features
AL KO 1000kg Brake system and Stabilisor
Improved 2023 stronger body and LED Brake Light
Clean Water System (sink, tap and tank)
Side Wheel Carrier & Tyre & Roof Rack
Mains Electric + 60ah 12v Leisure Battery System
1 Year White Goods Warranty  2 Year Manufacturer Warranty

Battery 60 amps & battery charger, 13 pin socket for car connection, Interior led lights (x 2) + Awning Lamp, Mosquito net & sun shades for windows (x2), Clean water and shower system 35lt, 12v Coolbox 35 lt. 220v, Mattress, All Terrain 17″ Alloy wheels, Braked 1000kg chassis with stabiliser, Basement storage, Ventilation with mosquito net 40x40cm, a choice of White, Cream, Grey or Charcoal.

Front Window, Acrylic Windows with flynet, Single or Dual Gas Hob Burner, Roof Rack, Front Wheel Carrier, Spare Wheel and Tyre, Tyre Cover,  Side awning, TV and DVD player, Protective Cover, Portable Solar Panel, USB Sockets, Mulimedia Player, Heating.
       £1,284.68
Acrylic Windows with Mosquito nets 
       £618.55
       £1,294.20
       £628.07
Roof rack with aluminium panels
       £857.56
Single Burner Gas Stove With Glass Lid
       £323.55
       £342.58
       £323.55
Spare Wheel with steel rim
       £370.18
Spare Wheel carrier at the front (Offroad)
       £399.68
Spare Wheel leather cover
       £171.29
       £342.58
       £314.03
​​
Mosquito nets for cabin door sized (x2)
       £272.16
Caretta Offroad Cover against dirt and dust
       £323.55
Air Conditioner 220V (window type)
       £885.01
       £233.15
Shovel on side hanged to side wall
       £157.02
20 lt. Gasoline Tank and metal holder
       £247.42
Exterior detachable kitchen table with basket
       £247.42
       £304.52
Usb charger with voltage meter
       £71.37
Multimedia player (USB reader,Aux) +loudspeaker
       £323.55
Caretta Inflatable awning with interior room
       £1,018.23
       £1,037.26
       £185
Please note: We have endeavoured to ensure that the information presented above is as accurate as possible but errors may occur. The information detailed above relates to the usual specification of the most recent model of this particular vehicle. It may not be the exact data for this vehicle and specifications for older models could possibly vary slightly. Therefore we advise you to contact us to confirm the exact specification of this vehicle.

All Prices are inclusive of VAT