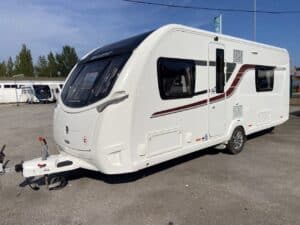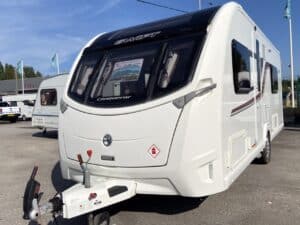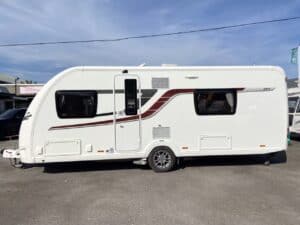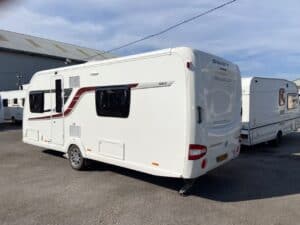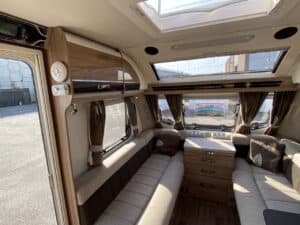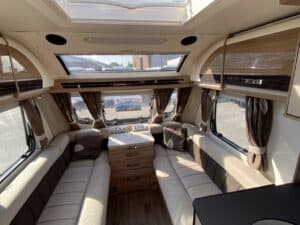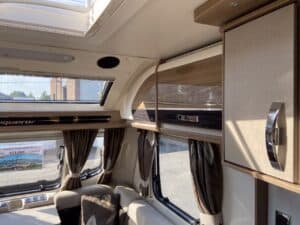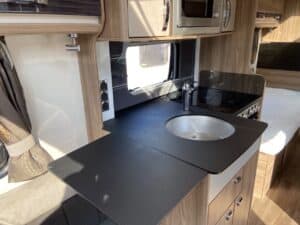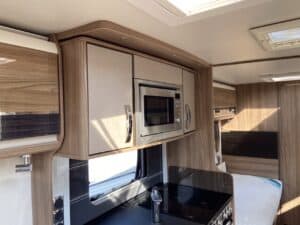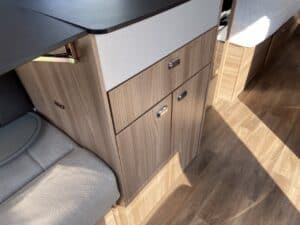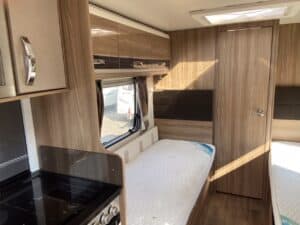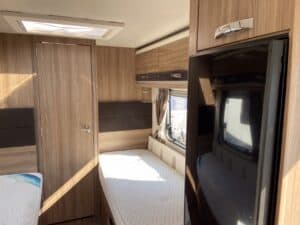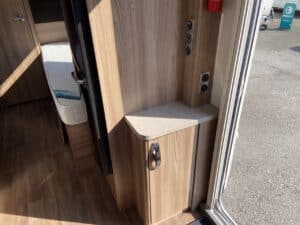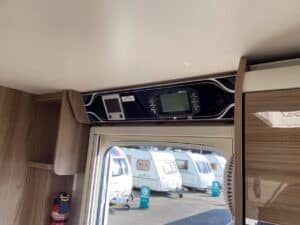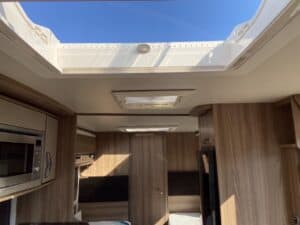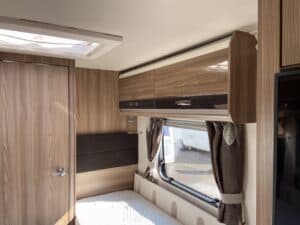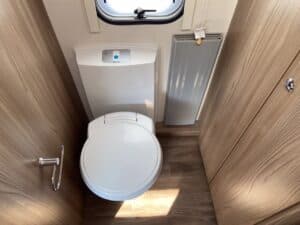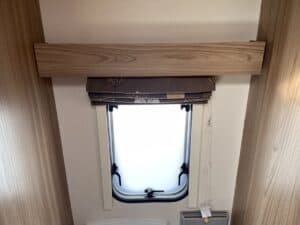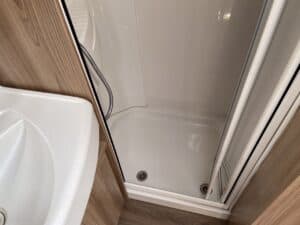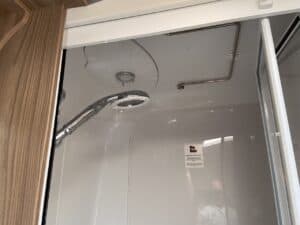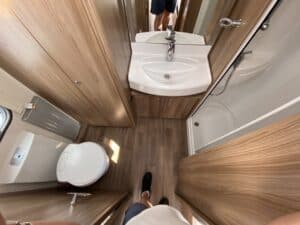 Specification
| | |
| --- | --- |
| Year: 2016 | Layout: Twin single beds |
| Dimensions: 7.49x2.26x2.60m (LxWxH) | Colour: White |
| MTPLM: 1654kg | Warranty: YES |
| MIRO: 1498kg | Payload: 156kg |
Layout

Click here to englarge layout view
Description
Swift Conqueror 565
A bit of "realignment" at the top of Swift's touring caravan portfolio for this year sees the Conqueror range going even further upmarket. Indeed, it practically is knocking on the door of the Elegance flagship range, perhaps without some of its sister's sheer flamboyance.
The 585 is the sole permanent single beds model, in what is now a nine-strong Conqueror line-up offering all kinds of different sleeping arrangements.
It's a smart looking caravan, benefiting from Swift's Smart HT bodywork construction technique – so, the outer and inner walls are GRP, there's a timber-free composite floor of five layers (including Styrofoam), and non-rotting polyurethane blocks are used instead of timber, enhanced insulation properties and more, including a number of patents pending.
Alloy wheels and heavily radiused leading edges, plus recessed awning rails and a one-piece back panel with fittings to take a bike rack all help towards the latest Conqueror look.
Swift Conqueror 565
There's also a front sunroof that appears even wider than ever. But, there's a good, solid feel all-round, and Swift hasn't forgotten the importance of aspects, such as corner steadies that are easy to access – while the spirit level that can be viewed via the front window means it's a doddle to pitch on the level.
Inside, in standard trim, the latest Conqueror interiors are a multitude of browns, but few would dare to find any lack of style. The floorplan is what can now be seen as a conventional single beds/end washroom layout/offering, albeit the beds are different lengths.
Swift Conqueror 565
Whilst the offside single bed is a generous 1.90m, the nearside is 1.72m (i.e. 5ft 8in). There's also the option of using the front settees as single beds (both 1.63m long) or creating a huge 1.98m x 1.63m transverse double
Both single beds have clutter-free, metal-framed bases with easy hinged access for storage (there's an external hatch on the nearside, too). They also boast all the memory foam-backed comfort of Duvalay Duvalite mattresses.
A generous front lounge comes as standard with the usual chest of drawers as well as tabletop with extension (wraparound seating is an option). There's also a free-standing table that stows in the nearside bed base – not a particularly easy location to have to keep retrieving it from.
Those bolster cushions are a feature of these long settees, which extend right into the front. Along with the two scatter cushions, they're ideal for those occasional daytime snoozes that are part of the sheer relaxation of caravanning life! There's certainly a supportive feel to the cushioning, whether it's for seating or sleeping.
Along the front there are twin banks of mains sockets and switches – but the three blanks here remind you that there could (should?) be even more luxury to come. Overhead, as well as that fixed sunroof, there's a standard Heki opening rooflight.
What looks like a rather compact kitchen, mid-'van offside, in fact has a more than generous space allowance for the chef. Contemporary fittings start with the thin, slate-style worktop with a generous extension flap and in inset sink, plus a plastic splashguard.
Cooking equipment includes Thetford's Aspire 2 full cooker with dual-fuel hob as well as separate grill and oven, plus there's a microwave oven for when you're on site and connected up to mains electricity.
Crockery lockers either side of microwave, plus two mains sockets, all help with the practicalities.
The fridge freezer opposite is Dometic's Tall slimline model, set off floor level for easier access and with a surprisingly generous 134-litre capacity. Alde's "wet" system, meanwhile, provides the hot water and heating.
The washroom includes step-in shower cubicle with Ecocamel's soft-spray/water-saving showerhead and pull-down hanging rail plus twin plugholes. That central basin is rather flimsy, in comparison.
Similarly, the finishing at the back of the wardrobe on the example viewed here needed some tidying up. And the wardrobe itself leaves not as much room as you might expect for changing.
Towing a Conqueror is never going to be for the faint-hearted. It's as hefty as it is stylish, but it comes with the reassurance of Al-Ko's ATC trailer stability control system as well as the shock absorbers we've come to expect on more upmarket tourers. The standard fit Tracker Retrieve and infra-red alarm will also ensure insurance savings for buyers. Although it is slightly disappointing that the Conqueror only comes with a receiver for the AL-KO Secure meaning buyers will have to part with extra money to buy an optional lock if they want the protection of an axle wheel lock
There's more information on the Conqueror caravan range on the Swift Group website.
To find out about how you can lower the cost of insuring this caravan, visit our caravan insurance discounts page.
---
Verdict: Stylish Swift weighs in with a twin bed winner
Plus: Generous washroom, Alde central heating, high equipment, superior build
In-a-nutshell: All-Conqueror-ing!